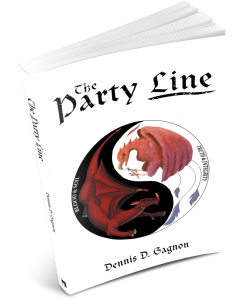 An elderly man reflects back to 1971 when, as an adventurous youth of seventeen years, he discovered a realm of unconscious, extrasensory communication—revealing a world filled with gods! The youth explores an aethereal realm inhabited by a monster, a ghost, dragons locked in eternal conflict, a phoenix, spiritual teachers, and perhaps a goddess or two.
In a series of ill-planned probes into the nether world, the youth manages to ensnare his dear friend in an ongoing conflict of voices coalescing into ever more powerful forces—leading to his friend's tragic demise. His friend's ghost demands vengeance. Should he avenge his friend's death? If so, how can he kill a monster that is the creation of the hateful, unconscious thoughts of millions of sentient beings?
Through sustained meditations on the logic of scientific proof, including examination of fundamental evidence for quantum theory, the youth becomes convinced that all is consciousness—no material world exists. Perhaps with sheer will he could choose from the many possible worlds one that does not include his friend's death? But he soon realizes that just as there are laws of the physical world there are also inexorable forces in the conscious domain. He finds that he must meet the monster of his suffering on its own terms.